Charmmy Kitty Pleasure Set
Like this post?
Digg it!
|
add to Technorati
|
Post to Del.icio.us
|
Furl it
|
Spurl it
Ah
Bento
. The Japanese have elevated the simple "packed lunch" into something with tasty varied mini meals with, of course, impeccable presentation. You can't just slap a PB&J in tupperware container in Japan or you'll be shot (probably not). So if you want to elevate your packed lunch from "blah" to "awww!" then check out this from
Sanrio Japan Yahoo Store
: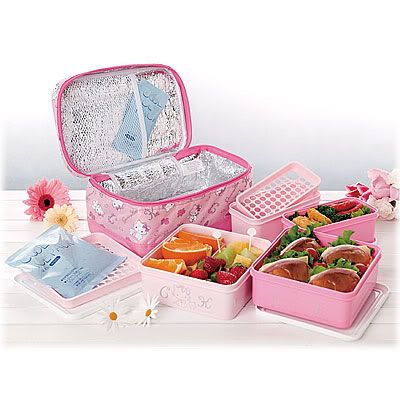 The translated description:
"The convenience point and are the [ri], is ill-smelling the ♪ cushion being effective, it is set of the insulated bag where the aluminum evaporation is attached on the lunch container Ooturu small, inside where the divider which is convenient to the leisure seat, the insulated tray & the quantity attaching which with the [dekoboko] land do not become matter of concern is attached. Now also picnic rises and is not wrong large!!"
I don't know either, but I love
engrish
.
4,830 Yen
source:
Sanrio Japan Yahoo Store
Technorati Tags:
Hello Kitty
,
Sanrio
,
bento